Do you catch yourself trying to cover up your mouth when you laugh? Do you try to smile with your mouth closed? You shouldn't have to feel embarrassed any longer. At Parkside Family Dental, we provide Invisalign clear aligner therapy to straighten your teeth, correct bite misalignments, and so much more. Schedule your Invisalign consultation with us today!
Easily Accessible Invisalign Process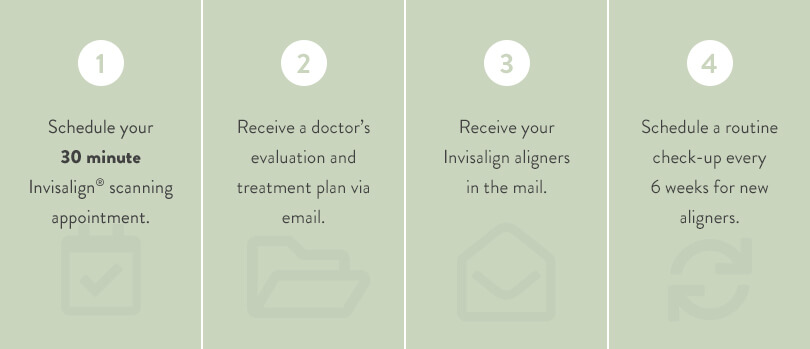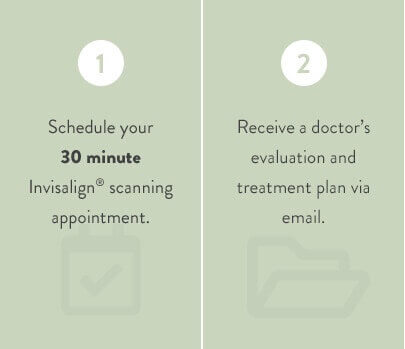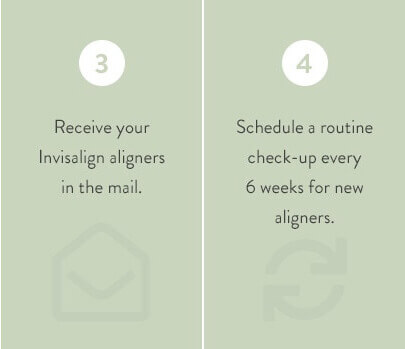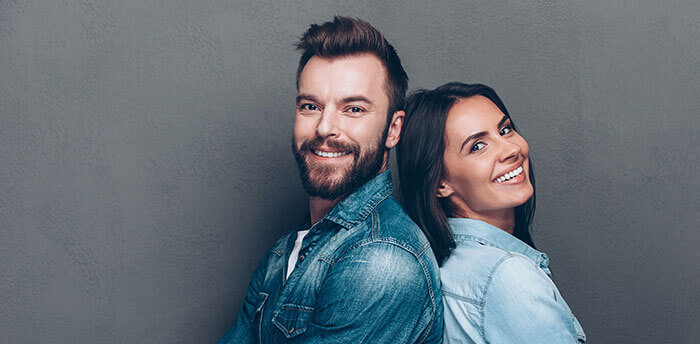 Invisalign Clear Aligner Therapy
Invisalign is a modern orthodontic treatment that can straighten teeth without braces. That means you don't necessarily have to spend years wearing wires and brackets just to get a picture-perfect smile! Instead, you just make your way through sets of Invisalign aligners, which are barely visible, plastic, and completely removable. In fact, they look similar to clear retainers.
Invisalign can fix gapped or crowded teeth, as well as misaligned bites (such as overbites and underbites). The average treatment time is about a year to a year and a half, but we'll be able to give you a better estimate about your Invisalign treatment length once we've had an in-person consultation.
The Invisalign Process
The way it works is you wear the invisible aligners for around 22 hours a day, and you'll swap out each set every two weeks. You'll only have to come into our office for a quick check-in about every six weeks or so. Each set is designed to move your teeth to a specific, new position, making gradual movements towards your desired end results. Many patients love that they can see the progress of the treatment with each new set that they put in!
The Perks of Invisalign
Subtle appearance
Completely removable (easy maintenance and no food restrictions!)
Gentle on cheeks & gums
Minimal trips to the dentist during treatment
How Crooked Teeth Can Affect Your Oral Health
Orthodontics will not only make your smile look great with straight teeth, they can also make sure your teeth function as they were meant to be. If you have a misaligned jaw, crooked teeth, or crowded teeth, you may be more susceptible to developing cavities or gum disease because plaque and bad bacteria have more places to hide. Also, if your teeth don't fit together properly, it's possible that you may suffer from a condition called malocclusion.
The symptoms of malocclusion include:
Crooked teeth
Frequent biting of the inner cheeks or tongue
Discomfort when chewing or biting
Speech problems, including the development of a lisp
Frequently Asked Questions
Can you eat with Invisalign?
One of the best things about utilizing clear aligners for orthodontic treatment is the fact that there are no food restrictions; you can continue your regular eating habits and activities without worrying about breaking a bracket or metal wire! However, you must take your aligners out every time you eat or drink something besides water.
Eating while wearing clear aligners would not only be uncomfortable, but it could damage and stain the aligners, and you would have to take them out to clean them afterward anyway. Simply remove your Invisalign aligners and then you are free to chew gum and eat whatever you would normally eat.
Do clear aligners stain?
If you clean your clear aligners properly, you should have no problems with staining. The Invisalign process involves wearing a new aligner every two weeks to continue the straightening process, so every two weeks you will be wearing a brand new clear aligner that is virtually unnoticeable on the teeth. If you have any questions about cleaning your aligners and keeping them stain-free, please let us know.
Is Invisalign expensive?
Clear aligner therapy used to be much more expensive than traditional braces, but over the years, the cost has come down and clear aligners and metal braces have become quite comparable in price. In fact, some Invisalign treatment plans end up being cheaper than traditional braces due to the shortened treatment time, which means your teeth will be straightened faster and for a lower cost!
Many insurance plans offer partial coverage for braces, including clear aligners like Invisalign. Parkside Family Dental also accepts CareCredit® payment plans, which can help break up the cost of Invisalign into feasible monthly payments. For more information, please contact our office or visit our financial page.
Is Invisalign the right choice for you? Schedule a consultation today!