Do you have a tooth that needs a little extra TLC? No need to stress, it happens! Our team at Parkside Family Dental can fit you with a custom dental crown that will restore the functionality and the appearance of your tooth. Get in touch with our office to book your consultation!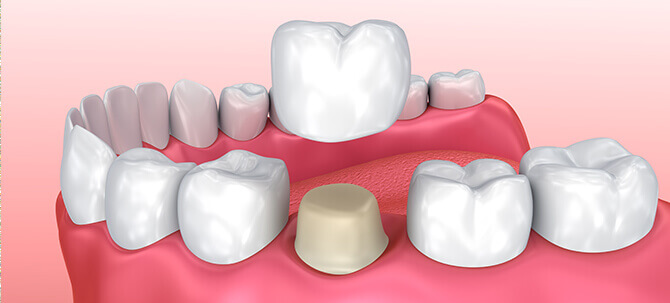 Reasons You May Need a Crown
Unsure if a crown is right for you? We've listed some of the most common uses for crowns:
Correct misshapen or severely discolored teeth
Cover chipped & cracked teeth
Strengthen weak or broken teeth
Support a tooth after a root canal
Crown FAQs
How long do dental crowns last?
Dental crowns can last anywhere from 10 to 15 years. Due to natural wear and tear, you may need to replace your crown around this time frame. When you visit us for biannual cleanings, we will always check the state of your crown to make sure that it's in good condition and isn't in need of a replacement.
What are dental crowns made of?
Crowns can be made from an array of materials, some of which include:
Ceramic & porcelain: This material is commonly used for crowns because of its ability to blend in with the color of a patient's existing set of teeth.
Gold alloy: Crowns made with metal are more durable than other crowns. However, because of their metal coloring, they are often only used for back teeth.
Porcelain-fused to metal: By using a metal base for the crown, we can utilize tooth-colored porcelain to give patients a natural-looking restoration that's also durable.
Stainless Steel: This material is most often utilized for placing temporary crowns while an off-site lab fabricates the permanent crown.
How is a crown put on a tooth?
We reshape the tooth and remove enamel to ensure that the crown fits snugly on top. Then, we use an extra-strength oral cement to cement your crown in place over your tooth. It only takes a few steps to restore your oral health with crowns!