We know how missing or failing teeth can cause you to struggle with the most basic of everyday tasks, such as eating, talking, smiling, and laughing. Perhaps you have become dissatisfied with uncomfortable, ill-fitting dentures or a retainer with false teeth. Dr. Nettey-Marbell of Parkside Family Dental can help you gain back your confidence and comfort with dental implants.
Start-to-Finish Dental Implants
Dr. Nettey-Marbell has received extensive training in all aspects of implant dentistry. We use dental implants to replace single teeth all the way up to complete arches.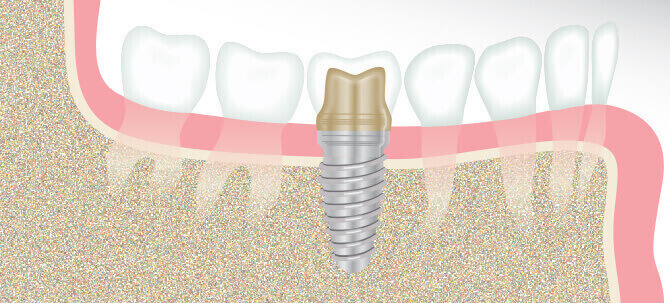 Dental implants are small titanium posts that are placed into the jawbone in place of missing teeth. Titanium is biocompatible, so it will fuse with the bone to create a strong and secure anchor for a restoration. Typical restorations that are placed on top of implants include dental crowns and bridges.
Benefits of Dental Implants
Dental implants are the preferred method of both doctors and patients for replacing missing teeth.
Implants look, feel, and function just like your natural teeth, so you can eat, talk, and smile confidently again.
When restorations are anchored by dental implants, the function and appearance of your lips, jaw, and face can be drastically improved.
Healthy dental implants that are well cared for can last for years and give you a new smile you'll love showing off!
Implant Supported Dentures
If you're missing most or all of an arch, we can also use dental implants to secure your denture. Stop fussing over a loose, uncomfortable, ill-fitting denture! We can place dental implants that fit securely into holes precisely drilled into your denture, giving you a fit that feels great and dentures that function more like your natural teeth than ever before!
Have an uncomfortable denture? Implants give you a smile that feels secure and functions great!
Contact Us
Are Dental Implants Right For You?
Generally, if you are missing a tooth you are a candidate for dental implants. Essentially, it all depends on whether or not your gums are healthy enough to support them. Everybody's mouth is different with different needs, so there's no way for us to tell if dental implants are right for you without a consultation with Dr. Nettey-Marbell.
Dental implants will restore your smile! Call to schedule a consultation today!