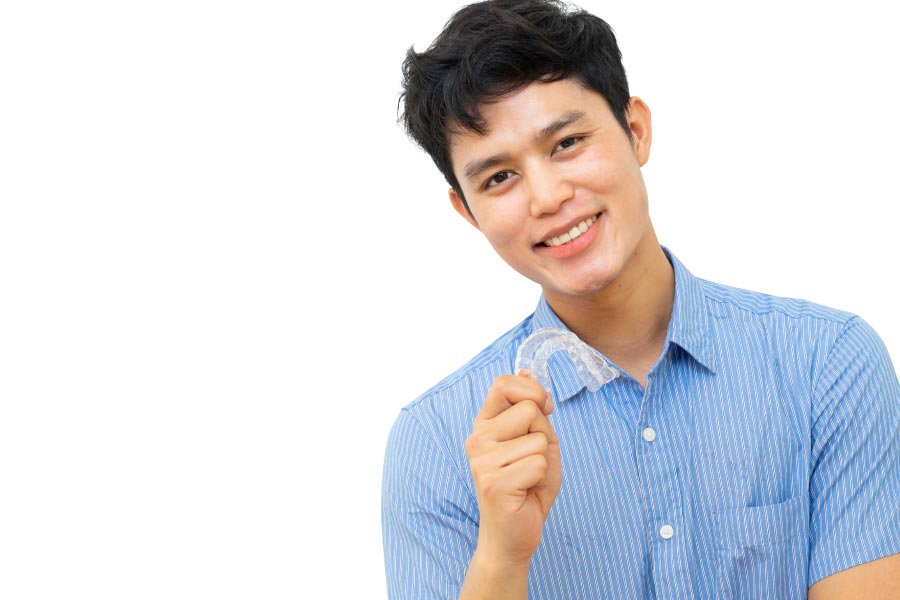 Whether you're a teenager with crooked teeth or an adult who has always wanted a straighter smile, Invisalign can help! Invisalign, which is the most popular brand of clear aligner therapy, has benefits for all ages. Here are five:
1. They're Subtle
Many people dislike traditional braces because of how they look, but Invisalign trays are clear. You can wear them all day (you should wear Invisalign for 22 hours a day for the best results) and feel comfortable smiling.
2. There Are No Diet Restrictions
Because you remove your Invisalign to eat and drink anything other than water, there are no diet restrictions! With braces, you can't eat things like popcorn or nuts, but you're free to eat your usual foods when you get Invisalign.
3. It's Easier to Take Care of Your Teeth
Brushing and flossing are easy with Invisalign. Simply take out your trays and brush and floss like you normally do. After eating, it's a good idea to clean your teeth before putting your aligners back in. Clear aligners should be cleaned with clear, mild soap and a soft-bristled toothbrush.
4. Straighter Teeth Are Healthier Teeth
Invisalign straightens your teeth using gentle pressure. By the end of treatment, you'll have a straighter, healthier smile. Why are straighter teeth healthier? Crooked and widely spaced teeth trap more food and bacteria, increasing your risk for cavities and gum disease. Straightening your teeth makes them easier to care for.
5. The Invisalign Process Is Easy
At our office, getting Invisalign is simple. Your first scanning appointment takes just 30 minutes. You'll then receive an evaluation and treatment plan by email. Your Invisalign trays come in the mail and every six weeks, you'll attend a routine checkup for new aligners.
Invisalign at Parkside Family Dental in Cary, North Carolina
Invisalign has gotten much more affordable over the years, so if you have only slight misalignment, treatment may be cheaper than traditional braces. We accept insurance and CareCredit, which breaks the cost into affordable monthly payments. If you have questions or want to schedule a consultation for Invisalign, please contact us today!
Contact us for all of your oral health issues & questions!
Contact Us