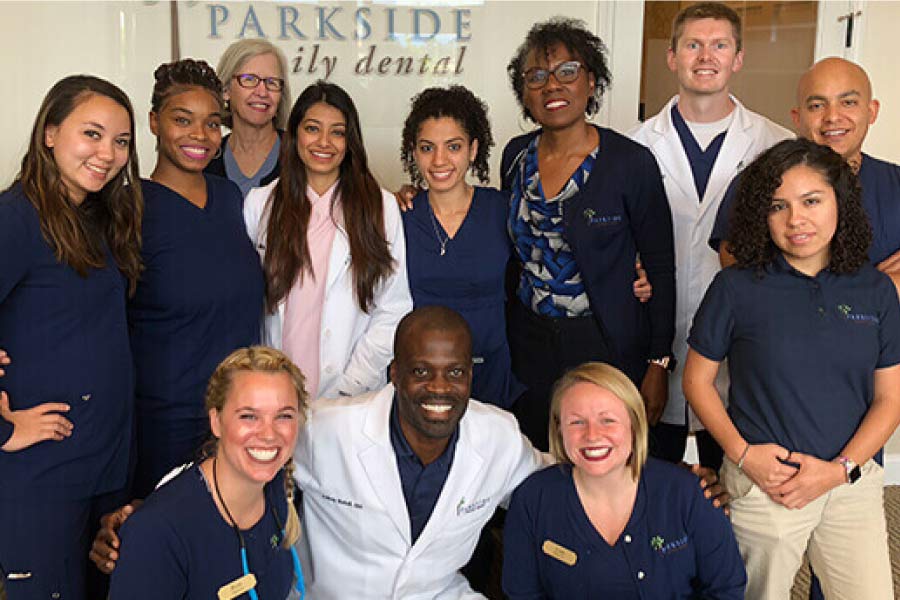 For many people, dental visits only occur for annual cleanings or when an unexpected dental emergency needs attention. While it's generally a good sign that you're not making frequent visits to the dentist, that can sometimes leave you in the dark about knowing your dentist.
At Parkside Family Dental, we aim to build relationships with our patients. No matter how little or how often you visit, we want you to know that Dr. Nettey-Marbell, Dr. Harward, Dr. Munson, and the rest of our Cary dental team are always here for you!
Dr. Anthony Nettey-Marbell
While Dr. Nettey-Marbell served in the US Army, he always held the goal of becoming a family dentist. Once he completed his term of service with an Honorable Discharge, he attended UNC School of Dentistry to earn his Doctorate of Dental Surgery degree.
Dr. Nettey-Marbell has years of experience treating patients in North Carolina and is happily ready to treat you!
Dr. Stephen Harward
Growing up in a family of dental professionals, Dr. Harward obtained his bachelor's in dental hygiene from the UNC School of Dentistry and served as a leader in dental-related student research programs.
While Dr. Harward has many years of experience, he is committed to staying up to date on the latest technology and techniques to help his patients achieve their best oral hygiene.
Dr. Bailey Munson
Dr. Munson earned her Bachelor of Science in Biology with a minor in Chemistry. Once graduating, she began work at a Pediatric Dental office, followed by an Orthodontic office which led her to receive her Doctor of Dental Surgery from the University of North Carolina at Chapel Hill.
Dr. Munson aims to educate her patients so that treatment decisions can be made together and looks forward to providing you with the best dental care possible.
Visit Parkside Family Dental
Whether you need a new dentist in Cary, North Carolina, or have visited our office, our Parkside Family Dental dentists look forward to seeing your smile. Our dental office offers convenient scheduling, comfortable amenities, and even sedation for patients with dental anxiety. Get in touch with our office to learn more!
Contact us for all of your oral health issues & questions!
Contact Us