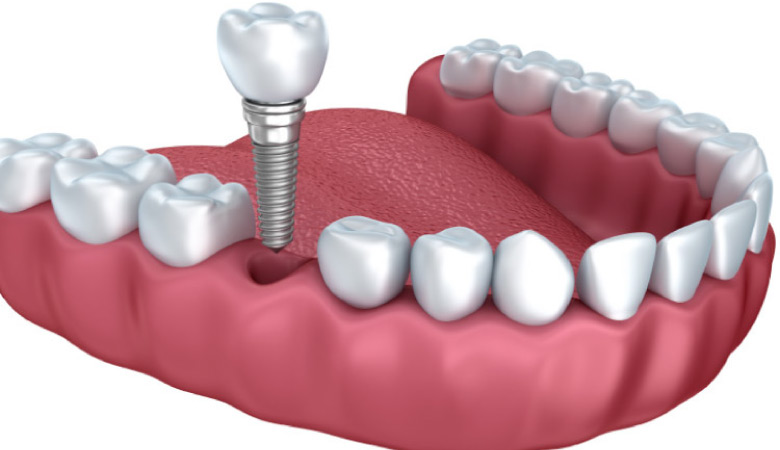 Need to replace missing teeth? Dental implants are a durable tooth replacement solution that look and feel natural. Check out these frequently asked questions to learn more about dental implants!
What Are Dental Implants?
Dental implants are small titanium posts that are surgically implanted into the jawbone. They are made from a biocompatible material which allows them to permanently fuse with the jawbone. After several months of healing, tooth restorations are attached to the implants to complete the tooth replacement process.
Which Tooth Restorations Are Compatible with Dental Implants?
Depending on how many teeth you are missing, implants can be paired with single crowns, a bridge, or dentures.
For single-tooth replacement, one dental crown is attached to the implant using a connective piece called an abutment. An implant-supported dental bridge also utilizes dental crowns but replaces multiple teeth in a row. To affordably replace an entire arch, dentures can be snapped onto as little as four dental implants.
How Much Do Dental Implants Cost?
The cost of dental implants varies on a case-by-case basis. There are many factors to consider, such as the number of missing teeth and number of implants needed, current jawbone health, and your chosen restorations.
However, don't let cost deter you from regaining a healthy, fully-functioning smile. You have several financial options at Parkside Family Dental. We accept many insurance plans, HSAs and FSAs, and CareCredit® financing.
Am I a Good Candidate for Dental Implants?
During your implant consultation, our team will determine if you are a good candidate for dental implants. Prerequisites include a strong jawbone, healthy gums, and a commitment to superb oral health habits. You'll need to brush and floss every day, visit us for routine cleanings and checkups, eat a balanced diet, and avoid tobacco products.
If you have been missing teeth for an extended period of time, your jawbone may have begun to deteriorate. You could still be a candidate for implants but you may require bone grafting to improve the strength of your jawbone.
How Do I Choose a Dentist for My Implants?
It's always crucial to look at credentials, experience, and patient reviews when picking a dentist. We also recommend scheduling an in-person consultation to see if the dentist is a good fit for you.
Choose Parkside Family Dental as your trusted dentist in Cary, NC. To provide personalized dental implant care, our expert dentists take the time to get to know our patients and perform a thorough oral examination. As one of our patients, you'll receive exceptional dentistry that accommodates your lifestyle and budget.
So if you're looking for an implant dentist, contact Parkside Family Dental to schedule a consultation.
Contact us for all of your oral health issues & questions!
Contact Us